Let me tell you something true: Christmas in New York City is just as magical as people imagine.
There's a reason folks from all over the world flock to NYC during the holidays to experience this festive season firsthand.
I can tell you from firsthand experience that the Big Apple comes alive during Christmastime in the most exciting way, which is why both locals and tourists await the season with eagerness and delight.
There's something special about being bundled up with a cozy scarf and thick wool coat, with a warm drink in hand while the chilly city glistens from the glow of Christmas lights and decorated Christmas trees.
I live in NYC and have personally lived through 5+ Christmas in NYC. In that time I've learned a trick or two about getting the most out of the short holiday season.
So if you're planning to visit NYC during Christmas, I'd like to share my personal list of the best things to do in NYC during the holidays to make your trip planning easier.
Hope you enjoy!
---
Is visiting NYC during Christmas worthwhile?
Absolutely! Christmas in New York City is such a delight to experience firsthand.
There's so much to see and do and the city's skyline takes on the most magical glow during the holidays. People are nicer, holiday cheer is abundant and the atmosphere is great.
As long as you adequately prepare for large crowds and cold weather, you'll have a good time!
---
Winter weather in New York City
There's no sense in sugarcoating it, NYC is COLD during the winter season. Average temperatures in December hover around 44° but the windchill makes it feel so much colder.
Make sure to pack comfortable walking shoes, a heavy wool or down coat, high-quality gloves and a reliable hat. I also suggest packing some of these (I never leave the house without them during the holiday season)
Snow isn't guaranteed during Christmas in NYC, but it's not unheard of. Pack for snow and chilly weather so that you're set for success.
---
Christmas in New York City
---
#20. Visit the mall at Hudson Yards
Hudson Yards is a massive mall adjacent to the (now) infamous Vessel. The mall features tons of high-end shops and restaurants, it's fun to explore anytime of year but Christmas is especially worth a visit because the mall is decked out with over two million Christmas lights!
The holiday celebration at Hudson Yards Mall is called Shine On. It's a unique light and music installation that spans the holiday season. I think kids would really like this experience, so if you have tots definitely swing by!
---
#19. Stroll the West Village
The West Village is arguably the most charming neighborhood in New York City. Just when you think it can't possible be anymore pleasant, wait until the first snowfall of the season.
Then rush out to the West Village and take a quiet morning stroll when the neighborhood is covered in fresh snow because it's truly magical.
There's a plethora of great cafes in the area so grab a warm drink and walk around with your special someone close by.
Admire the brownstones, pop into cozy shops, spend a few minutes appreciating the decorated window displays and walk the empty streets to your hearts content.
---
#18. Catch the Holiday Nostalgia Train
I will never forget the curiosity of seeing a vintage train pull up at a subway station as the doors opened to welcome me in. I mean, a vintage 1930 train was the last thing I was expecting when I jumped into the subway!
Turns out I'm not the only one that was caught off guard! Rather, I was privy to one of the most beloved holiday traditions in NYC — a ride on the Holiday Nostalgia Train!
During weekends in December, the MTA (Metropolitan Transportation Authority) partners with the New York Transit Museum to offer New Yorkers a chance to time travel by running an a vintage eight-car subway train — an experience referred to as the Holiday Nostalgia Ride.
My favorite thing about this NYC Christmas experience is that it doesn't cost anything more than the standard subway fare.
The Holiday Nostalgia Trail departs from 2nd Avenue subway station on the F line, helpful details and information about the Nostalgia Train rides can be found here.
From the New York Transit Museum website:
The Holiday Nostalgia Train consists of eight cars from the 1930s that ran along lettered lines through the late-1970s. The vintage Independent Subway System (IND) cars were used by the first subway company operated by the City of New York. Modern for their time, the R1/9s complimented the IND's Depression-Era Art Deco aesthetic. Featuring rattan seats, paddle ceiling fans, incandescent light bulbs, roll signs, and period advertisements, these are the cars that inspired Billy Strayhorn's "Take the A Train." Today, they are preserved as part of the New York Transit Museum's collection.
Image courtesy New York Transit Museum
---
#16. Hop aboard the Classic Harbor Line Holiday Cruise
What better way to soak in the holiday spirit than aboard a 1920s-style yacht that takes you past all the major sites in Manhattan?
You'll be cozily tucked inside a glassed-in heated observatory completely decked out in holiday decor with Christmas music playing in the background.
To comply with COVID requirements, guests are assigned private tables that are separated by plexiglass dividers and hefty MERV13 HEPA filters are onboard.
Beer, wine, Champagne and hot beverages are available for sale on board and you won't want to partake in this joyful experience without a hot chocolate in hand.
Image courtesy Classic Harbor Line
---
#15. Explore Central Park in the snow
Central Park is magical anytime of year, but especially so during the first snowfall of the year. If you're flying solo, pop in your headphones and let the Christmas music roll as you meander through the various paths, it's a very peaceful and magical experience.
If you're with a special someone, split the headphones with them and take a walk through the park. Can you think of a more romantic way to spend the holidays in New York City?
Also worth mention, if you've never visited Tavern on the Green pay it a visit during the holiday season. The interior is decorated in cheery Christmas decor and the expansive menu is full of delicious seasonal fare.
Image courtesy Kristin Duvall
---
#14. Visit the Columbus Circle Holiday Market
The lively Columbus Circle Holiday Market is located in the southwest entrance of Central Park, in the Upper West Side.
Featuring more than 100 holiday booths that sell a variety of fun items like homemade souvenirs, cute tote bags and cute Christmas ornament, it's a great place to visit for Christmas gifts and souvenirs.
P.S. I can't recall the name of the vendor, but I had the BEST nutella-filled churro ever at this holiday market!
---
#13. Try the Frozen Hot Chocolate at Serendipity
There's no shortage of great holiday treats to be had in New York City and thankfully calories don't count during the holidays, or so I'm told.
One of my personal favorite treats is the Frrrozen Hot Chocolate (not a typo) from Serendipity. It's a bit touristy, sure, but I really enjoy it and visit whenever my sisters are in town.
---
#12. The Rockettes' Christmas Spectacular at Radio City Musical Hall
The Rockettes' Christmas Spectacular Show has been performing at the Radio City Music Hall since the 1930s and doesn't show signs of slowing anytime soon.
The 90-minute performance is awe-inspiring and guaranteed to impress. It's a great NYC holiday activity for the whole family but even folks without kids (like myself) will enjoy it.
The entire performance is shockingly good and I can only imagine how long the skit is rehearsed. The choreography is on point and the dancers' high kicks seem to defy the laws of physics, but hey – you won't hear me complaining.
Image courtesy Radio City Rockettes
---
#11. See the Nutcracker at the Lincoln Center
Most folks grew up watching the Nutcracker on TV, but there's nothing like seeing a live ballet performance at the Lincoln Center or by the NYC Ballet.
The talent these ballerinas have is mind boggling and the show is not something you will forget anytime soon.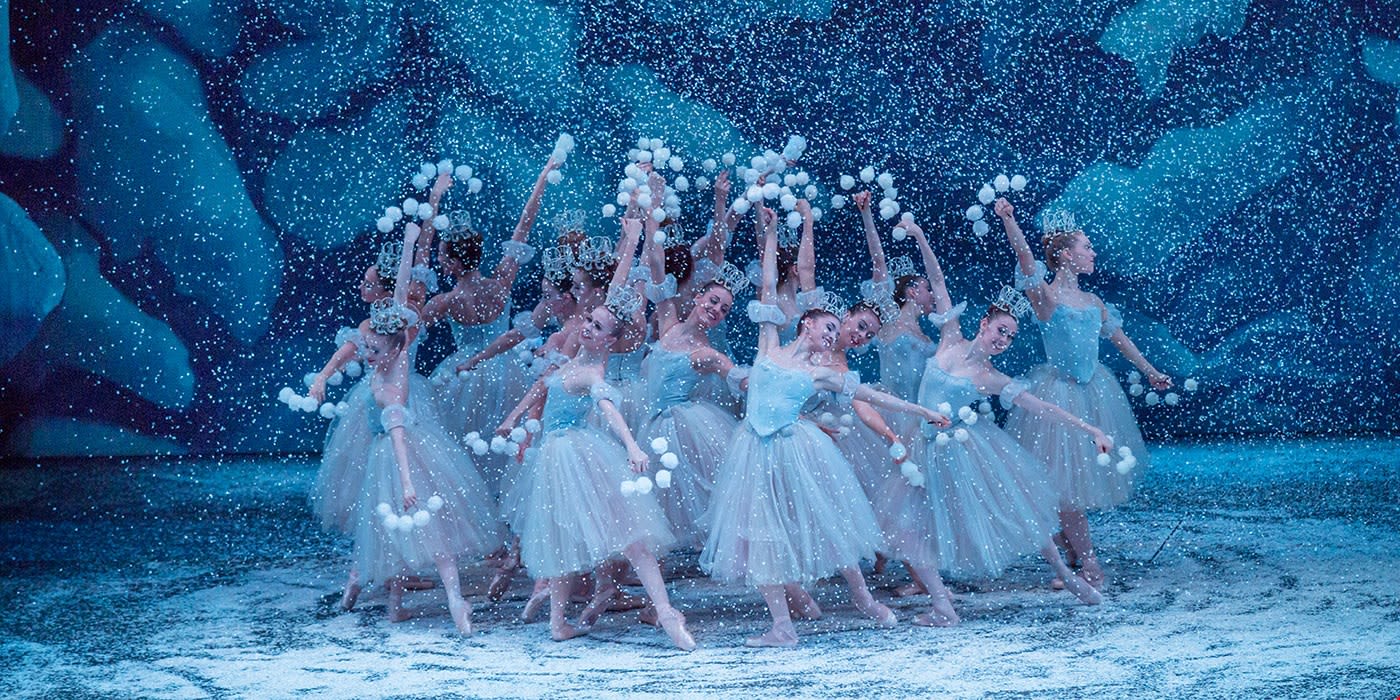 Image courtesy the NYC Ballet
---
#10. See the epic Rockefeller Christmas Tree
The Rockefeller Christmas Tree is an annual Christmas tradition that dates back to 1931 officially (unofficially, construction workers put up the first tree in 1931).
A new tree is selected every year and the requirement is that it must be at lease 75 feet tall. The tree is decorated with more than 50,000 lights and topped with a breathtaking (and bright) Swarovski star that is as equally as impressive as the tree.
---
#9. Peruse the Union Square Holiday Market
The smell of roasting nuts and hot apple cider wafts through the air as crowds of eager locals and tourists alike elbow their way from one cozy stall to the next, in search of fun souvenirs to take home.
Warm up with rich hot chocolate and visit the various vendors selling fun kick-knacks and delicious fare. If you need an extra pep in the your step to combat the winter weather, I suggest the mulled wine.
---
#8. Walk down 5th Avenue and admire the window displays
The window displays during Christmas in NYC are world-renown and you would be remiss to skip them during your visit.
Take a long stroll down 5th Avenue and admire the displays at all the big name stores. My personal favorites can be found at Macy's, Saks Fifth Avenue, the Empire State Building and Bloomingdales.
---
#7. Experience the Saks 5th Avenue Light Show
While strolling down 5th Avenue make sure you don't miss the epic light show displayed on the Saks Fifth Avenue Building!
The lights play in tandem with the Christmas music, which is sure to dazzle children and adults alike. The experience takes the holiday spirit to a whole new level!
The songs play at regular intervals, so stick around and enjoy a few rounds, if you have time to spare and the crowds aren't too bad, of course.
---
#6. Bryant Park Winter Village & Ice Skating
One of my personal favorite things to do in New York City during Christmas is to visit the Winter Village at Bryant Park.
The park is transformed into a European-style holiday market, equipped with 100 vendors that line a magical ice skating rink that sits in the shadow of the New York Public Library.
The stalls sell fun Christmas decorations, handmade crafts, unique jewelry and — my favorite — food, lots of good food. Grab a hot chocolate or mulled wine as you make your way around the lively market.
The 17,000-square foot ice rink is free to use but ice skate rentals run $20-$36 per person and due to COVID timed reservations are required.
I highly recommend this experience, it's my favorite way to celebrate Christmas in NYC.
P.S. Swing by the New York Public Library to see the breathtaking Christmas tree in the lobby.
Image courtesy: Time Out Market
---
#5. Go ice skating at the Wollman Rink
Ice skating at Wollman Rink is arguably the most iconic things to do in NYC during Christmas. Located in the southern part of Central Park, the rink is open from late October through early April.
It gets crowded quickly during the Christmas season, especially during weekends. Try to visit during the weekday and arrive early!
Note: Wollman Rink is CASH-ONLY, but there's an ATM onsite.
---
Christmas in NYC with kids
---
#4. See the spectacular Bronx Zoo Light Show
The Bronx Zoo is a beloved NYC institution any day of the year, but Christmas is exceptionally special. The zoo is converted in a winter wonderland, as bright lights guide a path that meanders through fantastic illuminated animal displays.
Make sure to pick up a hot chocolate or s'mores before embarking on this epic adventure!
What's more, at 265 acres, the Bronx Zoo is the largest metropolitan zoo in the country. Reason alone to visit!
---
#3. Enjoy Peter & the Wolf with Isaac Mizrahi at the Guggenheim
Seeing the live performance of Peter & the Wolf is an annual tradition for many NYC families. The 30-minute show is held at the Guggenheim museum and is narrated by fashion designed Isaac Mizrahi. It's the perfect NYC holiday event for kids!
This is a very popular event in NYC during Christmas, so you'll want to purchase tickets as soon as they go on sale.
---
#2. See the epic Holiday Train Show at New York Botanical Garden
The Holiday Train Show at New York Botanical Garden is a classic NYC Christmas activity, especially if you have kids in tow. Kids are enthralled by the trains running through monolithic displays of iconic buildings in NYC.
Don't have kids? Visit during the adult-only bar nights for an experience you soon won't forget.
---
#1. Experience Macy's Santaland
Macy's Santaland is a beloved NYC Christmas event that has been attracting families for ages! Spanning 13,000 square feet, this is an experience your kiddo is bound to love.
Macy's transforms the 8th floor of their massive department store (the biggest department store in the world, actually) into a Christmas palooza.
Visitors will meander through charming villages, Santa's workshop and tons of other fun displays before getting to meet Santa face-to-face.
The best part? The entire experience is completely free to enjoy, but advanced reservations are required.
---
Things to avoid during Christmas in NYC
---
#1. New Years Eve at Times Square
Listen, I grew up watching the ball drop at Time Square like every other American-raised kid. But I'll let you in on a little secret, being at the event in real life does NOT live up to the hype!
First, the crowds are absolutely insane and sucks the joy out of the event. Participants get locked into the core area until after the event is over and bathrooms are hard to come by, so much so that it's not unheard of for folks to wear adult diapers.
Second, the frigid temperatures and duration of the event make it unbearable. You'll be standing for hours in the cold and crowded streets and to me, it's simply not worth it. Hard pass on this one — watch the event from the comfort of your warm home.
---
#2. Visiting Rockefeller Center on the weekends
Seeing the massive Christmas tree at Rockefeller Center is a must-do during Christmas in New York City, make no mistake about it.
But you must absolutely avoid visiting during weekends like the plague. No seriously, it's estimated that an average of 750,000 people visit the tree per day during a typical holiday season.
I made the mistake of visiting during the weekends and found myself corralled (by police officers and barricades) in a massive crowds of people. We were slowly moved through to see the tree after approximately 45-minutes.
I instantly regretted by decision to visit during the weekend because the entire experience made me feel claustrophobic — and I'm not even claustrophobic to begin with!
---
#3. The Grand Central Holiday Market
Some of my friends suggested I visit the Grand Central Holiday Market last Christmas and I'm sorry to report that I found it pretty disappointing.
There wasn't any strong holiday theme, rather the market was full of overpriced vendors and felt like a tourist trap. With so many great holiday markets in NYC, I don't recommend this one.
The one perk though is that this holiday market is indoors, which makes it a great escape from the cold, but I probably wouldn't buy anything from it. Just my two cents!
---
Christmas in NYC (Post Summary)
Ice skating at Wollman Rink
Bryant Park Winter Village & Ice Skating
Walk down 5th Avenue
Bronx Zoo Light Show
See the Rockefeller Tree
Saks Fifth Avenue Lightshow
Union Square Holiday Market
See the Nutcracker
The Christmas Spectacular Show at Radio City Music Hall
Frozen Hot Chocolate at Serendipity
Columbus Circle Holiday Market
Central Park in the Snow
Classic Harbor Line Holiday Cruise
The Holiday Nostalgia Train
Stroll the West Village in the snow
Shine Bright at Hudson Yards
Peter & the Wolf at Guggenheim
The Holiday Train Show at New York Botanical Garden
Macy's Santaland
---
Map of things to do in New York City during Christmas
---
Visiting New York City? If you haven't decided where to stay (yet) check out our helpful guide on Where to Stay in New York City (The best neighborhoods for first timers +2 to avoid). Don't have time? Here's our favorite hotel in NYC, hands down.
---
And there you have it, my personal list of the best things to do in NYC during Christmas. Feel free to ask questions and/or leave a comment below, it's always nice to hear from you!
Happy Holidays!